@thegrugq Yep, it's a great example of how intelligence-gathering can be hidden in something else. It was even a gamification element.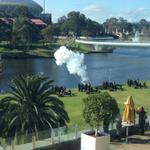 NicholasFryer South Australian cricket fans respond to Australia's loss to Zimbabwe by shelling Adelaide Oval. pic.twitter.com/Fk1IoOr7kK
@SnarkyPlatypus Bonjour. Le premier jour du printemps a été aussi improductive comme je l'avais prévu. Et vous?
Crossing the Nepean instagram.com/p/sYy8IpiFnm/
Mon plan: Slow start (done); 1220 train to Wentworth Falls; plan Scroungetember en route; @5at5daily; quiet evening, I think.
@SnarkyPlatypus Bonjour. Je me bats avec les défaillances de l'Internet. Et vous?
Dealing with fractious internets.
Monday. Extra effort is being made to annoy you personally. Monday.