RT @bengrubb: "The internet poses one of the greatest threats to our existence…," says PUP senator Glen Lazarus #senate [EXACTLY.]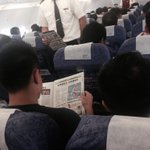 MariaSharapova Hey buddy, I'm right behind you… :) pic.twitter.com/deVaMfetzr
@SnarkyPlatypus Je veux dire quelque chose à propos de l'ail et de vinaigre balsamique, mais qui sonne faux.
@SnarkyPlatypus Je ne comprends pas la question, je vais supposer que la réponse est «oui».
@SnarkyPlatypus Bonjour. Je suis frais et parfumé, d'une manière plus agréable. Et vous?
@R_Chirgwin No, such things are managed in other ways.
Judging by the things in the news, my decision to spend the morning ignoring the internet was the correct one.
Thursday. The world is no safe. Do not exist in the world. Thursday.