chris23 So, who's gonna pay for Ello to scale? Hmm?

<crickets>
RT @9NewsBrisbane: Police are searching for a man who held up a Brisbane service station with a boomerang. #9News [He'll be back…]
And now to deal with this blinding headache.
And the radio spot is done.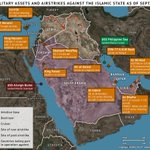 Stratfor Stratfor Map: Military Assets and Airstrikes Against #IslamicState as of Sept. 29 info.stratfor.com/twlg/ pic.twitter.com/TMUH9YA9GG
Tue plan, draft: Produce an episode of "The 9pm Edict", I reckon; breaks for noodles and occasional stretching; complain about the weather.
DanielPRose Good God. pic.twitter.com/fFBjABGvCO
Tuesday. Burn everything. Tuesday.