8one3 Twitter: Tell us what you stand for, Bill!
Shorten: Here's what I stand for.
Twitter: shut up Bill.
OH MY GOD I CAN'T HOLD BACK ANY LONGER MY FAIRNESS IS ABOUT TO BE BOOSTED.
GIVE ME Y0UR COMPREHENSIVE MANDATE, BERT!
I hope Bing Stapler keeps going just that little bit longer. I've had my pants down the whole time and I'm n e a r l y there.
Sure. Or, I could just drown myself in the bathtub. pic.twitter.com/4t6DxMU8hS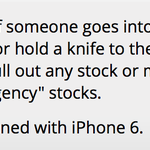 rpy Good advice from Whirlpool on getting your new Apple product faster pic.twitter.com/1lyQgywzil
Asking News Corp to create an innovative youth-market website is a bit like asking a blacksmith to build a spaceship
Three hours until the Full Moon, at 1342 AEST.
I suppose it's a bit like having a pet toucan.
Mon plan, redraft: Various chores; watch the videos I have to watch; break for lunch, Katoomba; blog; @5at5daily; collapse.
Mon plan, draft: Post the video and related web pages; lunch, Katoomba; watch the videos I have to watch; blog; @5at5daily; collapse.
Monday. It is quiet outside. Too quiet. Will you go out to check? OK. You'd better take this knife with you. Oh, no reason. Monday.