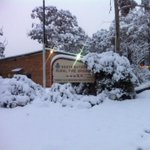 NSWRFS Today's bush fire danger rating in the Blue Mountains is 'low'. ;) #NSWRFS #snow Pic: Sth Katoomba RFS pic.twitter.com/0Qp6sfiiXG
Hmmm… It's gone 1000 and yet no "ready to collect" message.
Awaiting the message that says the computer is ready to collect because I'm not going out there today unless it's definitely worth it.
@stufromoz I don't know. I'm not in the Mountains.
Fri plan, draft: Collect loaner computer and transfer everything to it; rejoice in the glory of working technology; collapse in exhaustion.
@R_Chirgwin I'll look at that once my computer decides that it knows what Wi-Fi is.
Oh. Has it been snowing in the Blue Mountains?
There's quite a bit of pleuting going on out there.
Friday. There is much to fear, and you only know a small part of it. Be more afraid. Friday.