GabrielRossman Fear leads to anger
Anger leads to hate
Hate leads to 𝑢𝑠𝑒𝑟 𝑒𝑛𝑔𝑎𝑔𝑒𝑚𝑒𝑛𝑡 pic.twitter.com/VWub479QnO
Doozy_45 Brilliant!! 😂
#Brexit #StopTheCoup #RevokeA50 pic.twitter.com/OXdTmNYUJj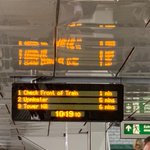 oberonsghost Indicator board, Embankment. pic.twitter.com/6bnAY8eiVi
Provided the mission was "Spend most of the day sleeping to catch up on the lack thereof over the last few weeks".
Mission Accomplished, or something.
Thu plan, initial draft: I'm not sure I even have a plan. I'm in Bangkok, I know that much, but poor choices may ha..twitter.com/i/web/status/1…AU
Thursday. Beware of the umbrella. Thursday.