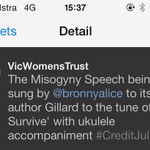 RT @dannolan: No. Way. pic.twitter.com/itnrClvgpn [Satire is now dead.]
Wow, with 10,000 dead in the Philippines, you can retweet every snippet of news from up to 10,000km away and still think you're helping.
My irony detector just exploded.
Sun plan, draft: Blog posts x 2; map out the week ahead, more or less; remainder TBA, depending on the results of the foregoing.
Sunday. Consulting with a plastic surgeon can take you another step closer to realizing a dream.