Tonight's mental image for you: John and Janette doing the beast with two backs.
HistoricalPics Animal Tamer Captain Jack Bonavita with some of his cats, c. 1870s pic.twitter.com/5JWt8zec1u
nigelwadsworth Why would you bring your daughter to a Girl Guide swimming carnival wearing a shirt with "Don't be sexist! The bitches don't like it."
deanog Is Hitler's Mother a time traveler? pic.twitter.com/uDHYYAYN8z
There's an airline called "H/Plane"? Is that right?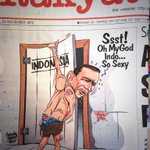 RT @mbachelard: Tony Abbott the peeping tom makes the front page in Indonesia. pic.twitter.com/mvSSPEFwND [Oh yeah this should help…]
"I don't even know the way I stopped up here, however I thought this publish was once good."
"The dream of possessing a fine leather bag is not silly or unreal."
I love the third comment on that article, which includes the interesting notion that something "dictates freedom".
Sat plan, draft: Compete Corrupted Nerds podcast, finally; remainder TBA, because adaptability and thunderstorms.
Hello, Saturday, and the Broom Handle of Compliance.