JUDGING PEOPLE I AM SO EXCITED.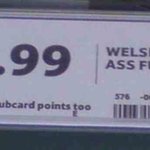 jameshodcroft Dear Tesco, when faced with the decision of which word to abbreviate, 'Assorted' is not the one to chose. pic.twitter.com/RQiPwwfGoK
RT @MicheleS_Aus: Son or daughter of Kay & Dennis? Just a guess…. [Interesting theory. I do know of names with similar origins.]
@ssharwood You should be ashamed of yourself.
R_Chirgwin Repeating my Twitter call. I need a home solar power system expert who can give a bit of consulting time (paid) on the phone.
Now I know I'm on shaky ground with this one, but what the fuck sort of name is "Kaydenn"?
@siggsau Oh thank you very much. Glad you're enjoying the podcasts.
RT @OaaSvc: That depends. *dons flame suit* I have three females in my household, so you can never have too much. [Flame suit a good idea.]
Just how much spare toilet paper does one house need?
Sun plan, draft: A little as possible; a blog post of some sort; something involving geese and a broom handle; I can explain, officer.