@MicheleS_Aus Bullaburra is the very epicentre of household hygiene.
The man who bought a Duromax brand chenille microfibre mop at Springwood is alighting at Bullaburra.
Crossing the Nepean instagram.com/p/h7N2ouCFpp/
chrisberg what is the best book of the year? adam smith's wealth of nations, obviously, as it usually is
Surrounded by stupid people. Really fuckin' stupid people.
JennyKayNZ RT @sophieJGB: No, Colin Craig, the word that comes to mind is 'election'. #everydaysexism pic.twitter.com/EHAHL35qdc #nzpol Rankin vs Bennett
It would have all worked so much better if Neil Armstrong had been a rabbit. Along with Bugs Aldrin.
RT @augrunt: she is ready to go into space for her country. pic.twitter.com/EE0VPa9qQ2 ["One small hop for a rabbit, one giant leap…"]
Sorry to get excited there and mistype, but clearly this whole Chinese Moon Rabbit Situation is far more serious than we thought.
RT @augrunt: my rabbit manipulates me emotionally, maybe it's a brain control type deal? [CHNESE BRAINWASHING RABBT ON THE MOON!]
RT @jdub: Introducing a big-eating, big-digging, big-breeding species onto the moon seems like a bad idea. THANKS CHINA.
I suppose it'd be some sort of carrot and joystick arrangement.
I done even understand how a rabbit can operate a space ship.
The Chinese don't have the technology to bring that rabbit back alive.
Wow that HAARP Weather Control has been even more effective in Syria than I imagined.
Most. Sophisticated. Code. Ever.
OH: "Sure, I can get plenty today. My mate will call and say 'Thunderbirds are go' and hang up, and we meet him at the [REDACTED] Hotel."
My eggs seem to have gone awry.
Vice_Is_Hip We found a homeless gay man secretly living in Orlando Bloom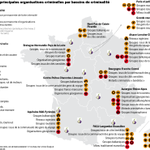 CasparBowden Seems my neighbourhood is crime-free apart from "Groupuscules du Darknet" pic.twitter.com/RPJ0lze40P
No, actually, don't instagram.com/p/h66XJ3iFsf/
At least I didn't wake up next to a previously-unknown species of anteater surrounded by empty gin bottles.
Regular viewers will note that much of that also constituted yesterday's pan, but then Something Happened and I'm now in the wrong city.
Sun plan, draft: Sloth around like a useless person; train to Wentworth Falls; personal blogues; quiet evening.
Sunday, it is a world of pain, and not in the good way.