@jeamland What have I done to deserve this?
realDonaldTrump Merry Christmas and a very, very, very , very Happy New Year to everyone!
PositiveLad Yes, Bosch, now is the perfect time for our oven to do an over-the-air software update. On Christmas lunchtime.
arwcheek Uhhh my electric toothbrush connects to twitter. cc: @internetofshit pic.twitter.com/u4CUnepmUW
@paulkidd Look we all know that turning to you for moral advice is a fool's errand.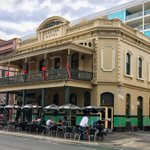 New blog post: "Weekly Wrap 343: Death and Christmas" stilgherrian.com/weekly-wrap/34… Covers 19 to 25 Dec. pic.twitter.com/lh05K5wVwz
Mon plan, draft: Potter around the house tidying up a few loose ends from before Christmas, with a break for pho.
@munin You'll just have to deal with that.
Monday. In a very real sense, this is wrong. Monday.