@smartbrain You're not so special. We're all doomed.
@zzap Yes, I have questions about the dog.
Somehow this version seems even worse. Also, ear candling is not a thing, people. You're deluding yourself. twitter.com/travelfish/sta…
@vealmince Few people have used the word "exclusive" when describing me.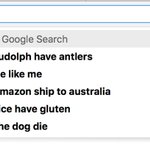 Does?

(This kinda raises more questions than it answers.) pic.twitter.com/hH7OahMrKK
@vealmince Oh. Yeah, i suppose I should be better at selling myself. Perhaps even with "special" gift wrapping.
Tue plan, additional: "Data wrangling"? Yeah, my MacBook Pro goes in for repairs tomorrow. The "A" has stopped work..twitter.com/i/web/status/9…iK
Tue plan, draft: Lunch; reading, possibly with the assistance of wine; certain data wrangling, because it's urgent; evening TBA.
@SnarkyPlatypus I can't help but think the use of antlers is ambiguous.
@gathgwyn Also, I bought a thing of cotton buds. What have you done with it you thieving mongrel?
@gathgwyn Yes, well I'd like a word with you about something. In our culture, we don't attack people's feet while they're sleeping.
Because I'm age-old and tatty, that's why.
I am following the age-old tradition of being bedecked in tatty Christmas decorations on Boxing Day.
Tuesday. I told you so. Tuesday.