@erkpod Hahaha. "Rubbish photo." The typography on that is weird.
Further alleged plans may be found in the Weekly Wrap, including details of "The 8pm Quiz of the Year" on Thursday… https://t.co/5OROunILWr
Mon plan, holiday edition: Lazy start; finally record that podcast, eventually, yesterday the one I've been talking… https://t.co/WF6Z7SH4kV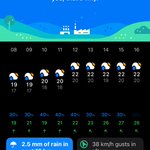 There are allegations of rain in Sydney today but so far it's just grey. pic.twitter.com/UUpmA0G6ZB
Charlietrypsin I forgot the best bit of my walk today: this cat who's owners are fed up pic.twitter.com/xQqwNnFNAz
Monday. It is neither one thing nor the other, so calculate the average. Your lucky colour is orange. Monday.