@CiscoLiveMEL Thank you, yes. Overall a good event, and I've mentioned a few things to the PR team#CLMelel
Crossing the Nepean, seen through a filthy train window instagram.com/p/0bQiWbCFkM/
Poles and wires instagram.com/p/0bGoXmiFin/
Fri plan, draft: 0824 train to Sydney; clear backlog of irritations en route; the usual errands; @5at5daily; TGIF.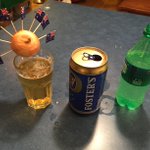 RT @jeamland: @stilgherrian Fancy a drink? pic.twitter.com/82aD78j8gp [I don't understand, and I don't want to understand.]
Friday. Do not be concerned about the acrid smell. They have assured us that it's perfectly safe. Friday.