jesusojesus1 JB HI-FI strikes again, Rectangular in shape! pic.twitter.com/Ckd1EOwZp5
There's Australia's cultural diversity on display right there.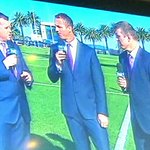 Fox Sports reveals Australia's latest boy band. Love the ties, symbol of individuality. pic.twitter.com/PJMZMmTHsc
SquigglyRick This piece on Cory Bernardi has some cracking lines. theaustralian.com.au/life/weekend-a… pic.twitter.com/xGtv3hNrKp
The presence of Heinz Beanz Creationz in the family pantry is clearly groundz for immediate divorce.
Why would you even ruin your Sunday morning like that?
I suspect that this is one of those days when I'm glad I've muted #auspol and all the TV program hashtags long ago.
Sun plan, draft: Transcribe interviews; break for Sunday lunch; transcribing continues; Weekly Wrap; try not to freeze overnight.
Sunday. No matter what happens, no matter where it happens, be afraid. Live in constant fear. Sunday.