I wish @GuardianAus wrote about me every time I said something about another person in the media. Sulks.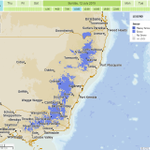 BOM_NSW Meteye shows the likely areas of #snow for #NSW this weekend, extending to #QLD border. bom.gov.au/australia/mete… pic.twitter.com/j8uez8dROd
Pondering what to write about later today.
I'm not sure that I'd bill Randi Zuckerberg as a "social media pioneer" though. Mildly important businessperson, yes, but "pioneer"? Gawd.
Thu plan, draft: Write for @zdnetaustralia, rearranging other things to fit; get a haircut, possibly; quiet evening.
Thursday. It circles the drain counter-clockwise. Thursday.