That's probably enough Tuesday for now. I might have a little more Tuesday later, but don't count on it.
awelder @acaderama @chrisjoregan The funniest time in any govt is when they realise there are services that are more important than they are
andrew_lund Our national broadcaster telling it like it is pic.twitter.com/h4qD9vFIpG
wintnation I thought those people without lives might like to hear your thoughts on this.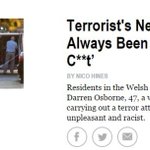 Fair enough. pic.twitter.com/dNsqXFT9wf
Tue plan: Same as Monday, except with significantly less sniffing and pain. I am not enjoying this year.
Tuesday. The stripes are alternately blue and white, or red and white, depending. Tuesday.