New podcast: "The 9pm Orgy of Confusion" stilgherrian.com/edict/00044/ pic.twitter.com/FqafcqsQ1y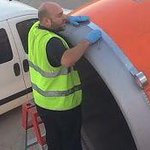 GuidoTresoldi Gaffer tape will fix anything. pic.twitter.com/ogJHS3wivC
@bigjsl Pants on, Sir, pants on.
Imagine living in a world where whether @bigjsl was wearing trousers or not was important, or even relevant.
@JannaTess Well, what happens in the US affects us all. I must admit, though, it does kinda amuse me that the I'm watching US Senate action.
@JannaTess That said, it's absolutely fascinating what is about to unfold in the US Senate. Good Fortune, America.
@JannaTess Kinda true, except that the NSA data collection wasn't based on Patriot Act but interpretation of FISA and presidential powers.
By "One hour to go", I refer to the appearance of an episode of "The 9pm Edict". I'm just recording the final links before post-production.