I was thinking of bringing out more shadow detail in that photo, but I kinda like it as it is.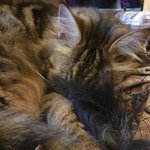 Curled. pic.twitter.com/13Au90QbAN
RT @rpy: There is a child sitting in a trolley in the Ikea market hall who keeps saying "kill me" over and over and she has my sympathy
@natecochrane @GizmodoAU Well there's a question, and I dunno. I guess if you're open about it up front. [Shrugs.]
@SecretChimp This time I saw that the 633 Squadron footage is a mix of the training sequence and the actual mission, but the point is made.
Check out this comparison between the original Death Star destruction run and the WWII film 633 Squadron. https://t.co/7Ob3w8DVlU
Oh, a Star Wars film knocking off an entire sequence from another film? Hardly surprising, they've got form… https://t.co/pJ7z3v1WO0
Sun plan, draft: Sleep in (done); potter pointlessly (in progress); Sunday lunch; certain urgent shopping; blog x 2, including Weekly Wrap.
Damn, I should've taken a photo. With blood all over my unshaven face it looked like I'd been snuffling my way through a slaughtered pig.

tinybaby asking for a friend pic.twitter.com/AAJtJSFpyX
Sunday. Whatever you think you can hear, it's definitely harmless. Sunday.