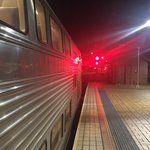 The 1818 #purpletrain stands ready. pic.twitter.com/EhfP4Y8IN5
I suspect it simply isn't convenient to kill them all.
There's quite a few people streaming from Sydney Central station and most of them are of extremely poor quality. Shoddy.
What is the correct mathematical relationship between the frequency of @TrainLinkWest services and the time taken to drink a standard beer?
Sunday. And on the third day I am risen. Sunday.